Reformed Hooligans has taken a hiatus on the podcast side, but that doesn't mean we've been neglecting the long offseason that has been in the world's game. Along with Italy's Euro 2020, Messi's breakthrough win in Copa America, and the US beating Mexico, and the Gold Cup. But despite all the international fixtures being played, we still have drama at the club level and this will speed up the transfer window now that the club season is on days away. With other teams in the Premier League also making moves, it's no different for the Villans who had quite the season in 2020-21 in comparison to their troubling 19-20 relegation battle in which they scraped by injury-plagued Watford to secure Premier League Status after quite a battle to claw back into the league.
Jack Grealish will be on his way to Manchester City for a club and English record €100m as Man City continue to breakthrough as Champions League Winners after a heartbreaking 1-0 loss to Premier League rivals Chelsea. Chelsea brought in Thiago Silva, Kai Havertz, and Timo Werner. Havertz was the one to deliver the goal that won Chelsea the Champions League after his big summer transfer, and that's what they want Grealish to achieve that, and Manchester will look to finally breakthrough the hurdle of winning Futbol's biggest club trophy. The price tag may be a point others will stress to criticize Jack, but at the end of the day, Grealish was worth that value to Aston Villa, his boyhood club. There will be further emphasis upon this theory as well, and look to who Aston Villa have gone after as replacements for Grealish's exit from Villa Park.

The Context:

The Villa story could go as far back as 2016, despite being one of the original Premier League members in 1992, despite even having tradition that goes as far back as 1874 well before the days of the World Cup and even the Olympics. But after twenty-four seasons in the Premier League, disaster struck and they were relegated into the SkyBet Championship, England's second tier. When current manager Dean Smith took over, they were mid-table in that second-tier, just over two years later the Villans are now presumably set with a core and infrastructure team wise that can help move into the places for European competition.
Of course, Grealish has been the star man, in the times he was out, they were lacking creativity and lacking a true playmaker, very similar to the importance of Ivorian Wilfried Zaha is for Crystal Palace. Villa also have the likes of John McGinn, Tyrone Mings, Esri Konsa, and Ollie Watkins, and now with the £100 million deal confirming Grealish's exit from Birmingham to the blue side of Manchester, they have already added much needed reinforcements for the big departure. With their signings of Emiliano Buendia, Danny Ings and Leon Bailey they add pace and a prolific finisher to the fold, and the Villans are rumored to be bringing on Southampton set piece maestro James Ward-Prowse to the Midlands, and were in communication with Arsenal over wonderkid Emile Smith-Rowe before a contract extension kept him at the Emirates.
Danny Ings, Leon Bailey, and Emiliano Buendia
If Danny Ings stays healthy, Villa would be able to play Ollie as an off-striker or along the flank or simply have Ings as cover given his injury history. Southampton were on a good run of form last fall before injuries ruined the momentum they had built and Ings going down was a big part of that. For Villa to have paid £25m for the former Liverpool man, some may have their doubts, considering the depth they'll have at the position now, considering former record transfer Wesley is still in the squad for now, this could provide some help for the long season. Ings signs on with a three deal, with 13 goals in the 32 games he played in for Southhampton last season was not as impressive as his 25 goals in all competitions in 19-20, however like Newcastle's Callum Wilson, when Ings was out with injury the Saints on the South Coast struggled to generate goals and of course they had a hard time with holes in the squad too. Health is the only question I have about this deal
The signing made for Grealish's LW position was Jamaican winger Leon Bailey, signing from Bundesliga side Bayer Leverkusen for €35m. The Bundesliga side failed to qualify for any European competition for 2021-22 and that propelled the club to move on from the Jamaican. In the past, there was discussion of Bailey going for £65-85 million, but his value never stayed at that range. Bailey had a great 2020-21 season with the departures of Volland and Havertz at Leverkusen, with 15 goals and had 11 assists in all competitions for the German club, he was definitely a factor for them. He'll definitely add pace for the counter attack that will be missed with Grealish's departure. Nobody in the Premier League drew as many fouls as Grealish did last season. Bailey will be on a contract that takes him thru 2024-25.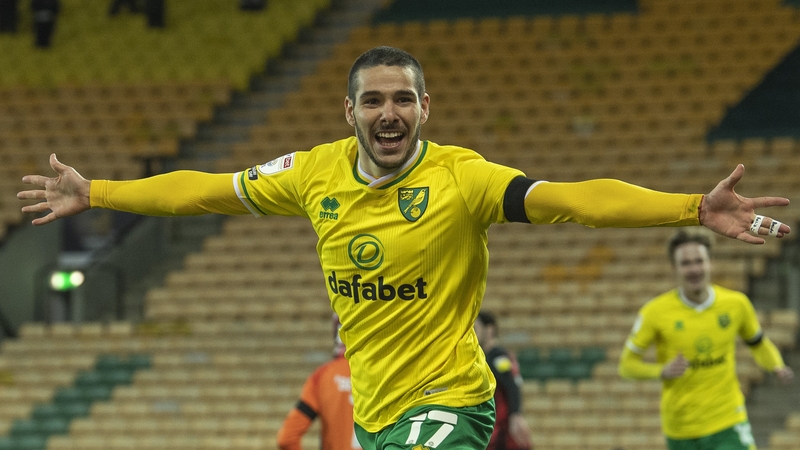 As for Emiliano Buendia, he's a player that like Ings, many Premier League fans or fans of the Championship should be more than aware of. Buendia was long rumored to teams like Arsenal, Newcastle, West Ham and even abroad as well, but Norwich hung onto him last season despite their relegation from the Premiership in 19-20. Aston Villa landed him earlier in the summer window likely because Ross Barkley's loan move ended bitersweet as the Chelsea loanee never got back to good form after his injury. With Buendia, you get alot of the creativity you lose with Grealish as he can play more as an Inside Forward at times. Buendia is definitely the kind of #10 that fits the description of what 4-2-3-1 would deploy as well, which is a way Villa could shape this season. In 36 appearances with Norwich in the Premier League during 19-20, he played in 36 games, had 5 assists and a lone goal. Perhaps with Ollie Watkins, he could definitely create many scoring chances.
EXPECTATIONS:
Losing a superstar like Grealish will hurt any club, there's an argument made by fans that he should've stayed loyal as they were building to get into European competition, however I think for Aston Villa it was the right move from the financial front. With €100m, they can retool the club and they definitely have. If they had kept Grealish and struggled out of the gate next season, they would be at risk of losing him at worse terms and likely at a worse point in recruitment for players suited to replace his valuable production to the side. Buendia, Ings, and Bailey have all played in top level competition as explained before, if they contribute as Ollie Watkins, Tyrone Mings and Matty Cash have then they should definitely be in the race for European competition soon.
Now elsewhere in Europe, RB Leipzig captain Marcel Sabitzer has been linked with Bayern Munich and was linked with Tottenham Hotspur, now his fee will likely be £18m as opposed to his market value which is closer to £42mil, but RB Leipzig were in the Champions League and have qualified again this season, so I'd presume the chance to play in European play would make an approach by Villa hard, but considering Bailey went for £32-38million, I'm sure some will look at it thru age, but sometimes that's the lone factor, wages and competition.
With teams like Leeds United having a big season after promotion from the Championship last season, with West Ham being in the top 6 most of last season, and Arsenal/Tottenham in major limbo. There's an opportunity for Villa to do what West Ham accomplished last season but Dean Smith will have to make all the right moves for absolute sure. Villa finished 11th last season, but with a lot of optimism and ambition they can relive their past European glory from the early 80's. Villa were willing to pay Grealish more in wages than City to keep him at Villa, keep that in mind. But Villa could turn this profit into Liverpool where they were able to turn Suarez and Coutinho's huge transfer fee into European Champions, or with Spurs were they eventually recover after Gareth Bale's record move to Real Madrid in 2013, but the moves made were not the ones that led them to the Champions League Final against Liverpool. The future is bright in Birmingham, Villa fans might be disappointed but it's not anywhere as bad as Barcelona losing Messi on a free.