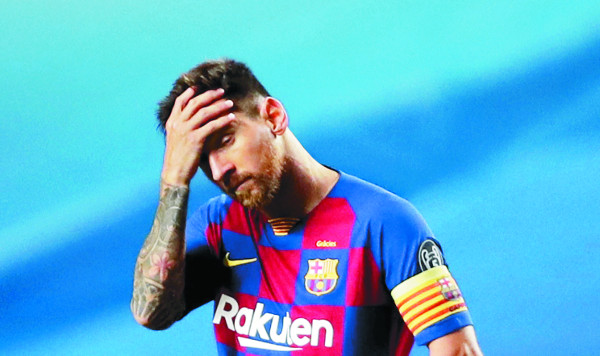 As an American, our sports leagues allow players that have contracts run out test the free-agent market and go to any team of their choosing. There are a number of high profile examples in recent memory including Lebron James and Tom Brady were allowed to test their bargaining power at the height of their powers. Both winning championships for their new teams the Los Angeles Lakers and Tampa Bay Buccaneers. 
The same circumstance will now occur for Lionel Messi, The man, the myth, and the legend of Barcelona. To many across the world he is the best to ever put on cleats and kick a ball, he scored goals that seem on imaginable to the human eye, and believe it or not, former manager Pep Guardiola hasn't won a Champions League without Messi. Not at Bayern Munich and not at Man City, all that stuff we knew. But for Barcelona, this loss sets them into a complete restructure of the club. President Joan Laporta will have his hands full trying to salvage this situation having run for president on the fact that he was going to keep Messi in Catalonia, in Barcelona, to be a one club man, and bring back the Champions League, but it's not the reality. 
Barcelona simply did this to themselves with their poor fiscal habits under former President Josep Bartomeu and his Football Director Eric Abidal, especially considering the mess that occurred during the end of Neymar's stint with the team before his record move to Paris in 2017. Signings like Phillipe Coutinho, Antoine Greizmann, and Ousmane Dembele never lived up to expectations and their wages are so astronomic that they're almost impossible to unload without a major loss on the player, or bloated funds considering they are paid high wages and simply sit the bench or are overpaid and would free up funds to strengthen weaker positions in the team. 
Midnight in Paris? 
The fact that Messi is leaving won't hit me until he officially signs with anyone and if that includes PSG so be it, I'd love to see the Neymar and Messi combo reunite. However a Messi signing to Paris SG would have an interesting ripple effect for other stars, not only on the team, but on other European rosters as well. For starters, look no further than French superstar Kylian Mbappé, The World Cup champion joined the team for Monaco after their magical run in the champions league just a few years ago, now barely in his 20s he's a household name and a shoo-in to be a Ballon D'or candidate for the next decade. Heading into the last year of his first contract with the club, there has always been rampant rumors with links to Real Madrid. Mbappe could see his wish come true with the move to the Burnabeu with Messi's possible wages if signed. Real Madrid is rumored to have made every single player except Vinicius Junior, Thibaut Courtois, in the few are the starters off-limits for any possible move for Kylian Mbappé if PSG were interested in a swap. I do believe PSG have to be very careful with how they manage this situation. Because selling him now will hurt the team a lot less on all fronts than losing him next July for absolute zero, especially considering the fee for him originally. 
Another player that could be impacted by a Leo Messi move away from Barcelona is International team mate Sergio Agüero. Agüero left Manchester City after a decade with the team, scoring the biggest goal in the history of the Premier league, winning numerous Premier League Trophies, FA cups, and English league cups. He signed with Barcelona and hopes to play along side Lionel Messi. Now that Messi has left the club, Agüero might be trying to see his way out of Catalonia. If so, I wonder if a Manchester city reunion could be in the cards. Keep in mind Agüero has always had injury issues and wasn't really a key factor for Manchester City last season. If Agüero were to leave Barcelona after a short-lived stint. They would almost feel compelled to have fellow new arrival Memphis Depay or Antoine Griezmann at that juncture. Be interesting to that go down. 
Barcelona's Next Direction 
I'll refer back to when Luis Figo left Barcelona in 1999 to join rivals Real Madrid, when he left the club he left a big hole for the Catalonian Giants to fill. What followed in the next few seasons was Real Madrid building their Galactico squads with Zinedine Zidane, David Beckham, Ronaldo, and of course they already had Roberto Carlos and Raul Gonzalez. What also happened in La Liga during that stretch was Valencia winning La Liga, and Deportivo qualifying for Europe. 
But during that stretch Barcelona nurtured and brought in the players that would bring them out of that hell. It just so happens that Joan Laporta was the president of FC Barcelona during the era as well. No I want to pump the brakes for a second because I don't want to predict that Messi's loss Will foreshadow the future superstardom of Ansu Fati and Pedri, or perhaps to Memphis Depay is good enough to play at a big club, that Antoine Griezmann can still become a great player for Barcelona, A lot of these narratives that I could mention could happen. 
But no matter what, I still find it impossible for FC Barcelona even with all of their debt to fall further than 3rd or even 4th in La Liga. My reasoning for this is rather simple, as much as I love what Real Sociedad have built, respect the success that Sevilla have had in the Europa league, but those teams are still quite a bit short talent wise in comparison to Barcelona. Just look at the standings from last season… Sevilla did finish two points behind Barcelona at 77 points, but Real Sociedad and 6th place Real Betis were 15 points behind the Champions League qualifiers of Spain. Sevilla could be losing Jules Kounde this summer, if they do that will hurt big time. 
League Drama:
Of course, anyone who is familiar with the history of Spain, knows it's a country with weird history, but in terms of its soccer, especially in recent memory seems to just bring drama to mind. The whole saga with Neymar transfer from Santos, The Ronaldo tack situation before he left for Juventus, never mind all the shenanigans that Peter Lim got Los Che (Valencia) into over the last five years. Regardless, La Liga might be seen as getting their own way in the name of parity, as they try to enforce their own FFP laws, by creating a luxury tax threshold for teams that spend way over the prospective wage budget. This is the main issue that has held Leo Messi and the club from signing a new contract and registering him for the new season.
It was reported that Messi had agreed to take up to a 50% wage cut for the upcoming season as a way to help Barcelona alleviate their debt. Included in this rule for other players that newly signed with the club as well like Aguero and Depay. Not being able to sign players you sign as free agents during the recent transfer window would just be such a blow an appearance of incompetence. But in the end La Liga forced Barcelona's hand by blaming the league as to why they got themselves into the financial situation they created, from a commonsense standpoint it sounds completely hypocritical and asinine for them to blame the league, but I think many Barcelona fans know that on the inside. Nobody put a gun to their head and made them pay over €300 million for Antoine Griezmann Philippe Coutinho. That's just the facts! 
Conclusion: 
Anytime you hear news of a superstar changing teams especially as a fan of that team there's a lot of mixed feelings. I can relate to that as an RB Leipzig fan watching Timo Werner, Dayot Upamacano, Ibrahima Konate all go to bigger clubs. It's always frustrating watching them go to Bayern. But if Messi does leave, it does appear that his next stop will be in Paris. I can relate to the pain of Barcelona fans not that other fans will feel bad though, with all the drama going on behind the scenes at the club it might be better for them to keep a low profile and have expectations dwindle down a little bit as they try to regroup. In most discussions I've had with people, many feel that Barcelona will simply be back in 2 to 3 years, and I am in that consensus as well. Once their debts clear and they can seat a full a stadium of fans, all the other problems will solve themselves. This move might be the only way they can get out of debt. In a summer where Messi wins his Copa America breakthrough, now he's moving teams, even with his wishes to stay, even with wage cuts, even after everything that happened in the last two years, the man loves Barcelona, that's his home, he could go back in due time, but I think La Liga gonna be mad about this one in the long run, especially if Barca have Super League ambitions once again.