Although it has been quite some time since I myself have recorded with the Full Court Press squad, especially with the podcast shake up in the recent months. This summer I'll be dropping a blog and a video explaining each team's situation. SSAW will still offer the weekly podcasts, but now with the offseason approaching, there's set to be some changes to NBA rosters to get to a Championship and for Boston, that is Banner 18!
In order to discuss Celtics affairs in general we have to find out how we got to this point. What we do know is that Brad Stevens has been the Head Coach since Doc Rivers and the two remaining components of their Big 3 of Paul Pierce and Kevin Garnett were traded to the Brooklyn Nets after a sweep against Carmelo Anthony, Jr Smith, and the New York Knicks. With Doc Rivers sent to the Los Angeles Clippers for a draft pick, this set the stage for the rebuild.
After 8 seasons as Head Coach, Brad Stevens made a shock move to the front office after Danny Ainge decided to step down after a long and consistently successful tenure with the Boston Celtics, having took over after the disastrous tenure of Providence Friar and NCAAB legend Rick Pitino. Ainge steered the team forward including one championship in 2008.
Of course all Nick Wright cultivation aside, Danny Ainge did well to land 4 key players like Marcus Smart, Jaylen Brown, Jayson Tatum, and what was Terry Rozier. Mixed in with veterans like Al Horford, Gordon Hayward, Marcus Morris and of course the infamous Kyrie Irving. It looked to be primed to compete for a championship. Ultimately, the Celtics had injuries to their core and have fallen off, and like the Sixers and Heat are in a tough position to figure out how to stop Giannis's Bucks and KD's Nets from running the table for the foreseeable future. I'll dissect some main talking points with the Celtics and discuss where they can address the needs they have.
Head Coach Ime Udoka
For those who play NBA 2K, or follow the NBA coaching circles closely, the name Ime Udoka should be a familiar face, he's been on staffs under Steve Nash and Gregg Popovich, and been around big name stars like Kawhi Leonard and Kevin Durant on Team USA. Those are the types of star players the J's (Jaylen and Jayson) should strive for. Talking with media, the newly appointed head coach for the Green Team has already been pushing to see how far the potential for the two young stars could be.

"Talking to Kawhi Leonard as a young guy, and I used to tell him, 'Why wait? What are you waiting for? These guys, don't give 'em too much respect.' And I'd say the same thing to Jayson [Tatum] and Jaylen [Brown]," Udoka said. "You know, the sky is the limit. The fact that you're not all-NBA, that should be a chip on your shoulder. You should play with that edge and want to prove people wrong. But my message to them would be 'why wait?' The talent is there, the work ethic is there, the chance to be a better leader and more vocal at times, but don't wait for anything. Go out and take it now."
I agree with Udoka, any time you have two young stars and they have so much more to give. Looking at Kawhi Leonard and Paul George with the Los Angeles Clippers, it's possible for two dominant star perimeter players to share the spotlight. Tatum and Brown will now no doubt be the co-faces of the franchise and it should be noted to Celtics fans that I do believe Jaylen Brown, Jayson Tatum, and Marcus Smart are definitely going to be a big part of this revamp under Brad Stevens as the new Danny Ainge in the Celtics Front Office. Stevens will have Mike Zarren, who also served under Ainge, so that's familiarity in a sense.
As far as what the coaching staff will look like, there's been rumors about Damon Stoudamire joining Udoka's staff, notable to mention that Stoudamire played for Lute Olsen in Arizona before a long NBA career with the Blazers and Raptors notably. Evan Turner and Jay Larranega have been on Brad's staff and it's unknown if they'll be kept with Udoka being appointed.
Considering Boston's history, Boston will have a tough time landing free agents, despite landing Al Horford and Gordon Hayward in the past, Boston is still a cold weather city with high taxes, high property cost, and a very dicey history in terms of race. Knowing that affects the way the fans, other players, and media treat the team in this way should offer some perspective as to how careful the Celtics have to be going forward to continue to compete. After a trade between Oklahoma City and Boston including Kemba Walker, former Celtic Al Horford, Moses Brown and the 16th pick, the Celtics added much needed size and some cap freedom with Walker's last two years coming off the books.
Brad Stevens and the Transition to the Front Office
Brad Stevens has gone from an unknown young coach at Butler University coming within a shot of beating NCAAB blueblood Duke in the National Championship Game to successfully taking the Celtics deep into the playoffs on multiple occasions. Safe to say, the Celtics overachieved for the majority of his tenure in Boston from IT to Kyrie, from Avery Bradley and Jae Crowder to Jaylen Brown and Jayson Tatum and to go from Kris Humphries and Brandon Bass to two stints of Al Horford showed major improvement for a Boston side that was young.
Danny Ainge fell out with players due to his lack of loyalty, but in theory, he stepped down due to health issues and Brad was interested in college jobs, keeping Brad around even for now is still better than clearing house in their eyes, and with the coaching hire and the trade, Stevens has already won some fans over with the intention. Despite having no first round pick, adding Moses Brown and Al Horford is far more valuable.
I'll get to how they can address their PG situation, but overall the roster has already improved, Kemba just wasn't going to work, he would've worked better with Horford here.
When Pat Riley stepped to the Front Office in Miami, it was after two decades for the better part with the Showtime Lakers and the Ewing Knicks, of course Riley went back into coaching before allowing Erik Spoelstra to succeed him for good, but Stevens could easily be giving this time to go back into coaching in some time. Stevens is still in his 40s and with the right moves can give himself some job security seeing how long Ainge was at the helm for.
Another Season, Another PG
The Celtics have had success in the past five seasons, until a .500 finish this season, with 48 wins in 15-16, 53 in 16-17, 55 in 17-18, 49 in 18-19, and 48 in 19-20. In that span they've had many different players in that point guard role. This ranges from Marcus Smart, Terry Rozier, and Avery Bradley who were draft picks by Ainge to Isaiah Thomas and Kyrie Irving who were acquired via trades, or free agents like Gordon Hayward, Evan Turner, and Jeff Teague who all handled ball handling duties at times in the Stevens era.
One thing is for sure, the Celtics will be looking for a PG this offseason and probably will look to bring Evan Fournier back for scoring and shooting. What could be some realistic targets? Let's aim high here!
Damian Lillard
As someone who was always super into NCAAB, Damian Lillard's rise to stardom has been such a joy to watch. While Lakers fans try to convince the rest of the NBA that Kyle Kuzma is a good trade piece, the Celtics don't have anything better to offer either. Sure they could offer Marcus Smart, Robert Williams and Romeo Langford, but unless they reset completely and trade CJ also, that deal makes little sense for Portland, especially with Miami, NYK, and Dallas with more appealing assets.
If Lillard were to join Boston with the players mentioned plus the trade exception scraps, Boston would pretty much be in the same position they were in with all that preseason hype in 18-19 before Gordon Hayward went down, and even then that team had Marcus Morris. Lillard's knack for the big moment will earn his instant fanfare in Boston, Boston will like anyone if winning is included. However, I don't see how this trade can happen. Dreaming is always allowed!
However, according to SI's Chris Mannix, Jaylen Brown could be moved for Lillard or Bradley Beal, I personally wouldn't want to move Brown unless it's for Bradley Beal, and that's linked to how close Beal and Tatum are off the court. Lillard has been linked to Golden State, Dallas, NY, and LAL (shocker), I don't believe Boston can offer Portland a package that works for them minus Brown, Langford and Robert Williams and even then, I'd be conflicted, as much as I love Lillard as a player. At some point you have to get to the point where they've gone this long without trading the key draft picks they received thru the Billy King Blunder, why trade them now knowing this team is a pass first PG away from contending once again.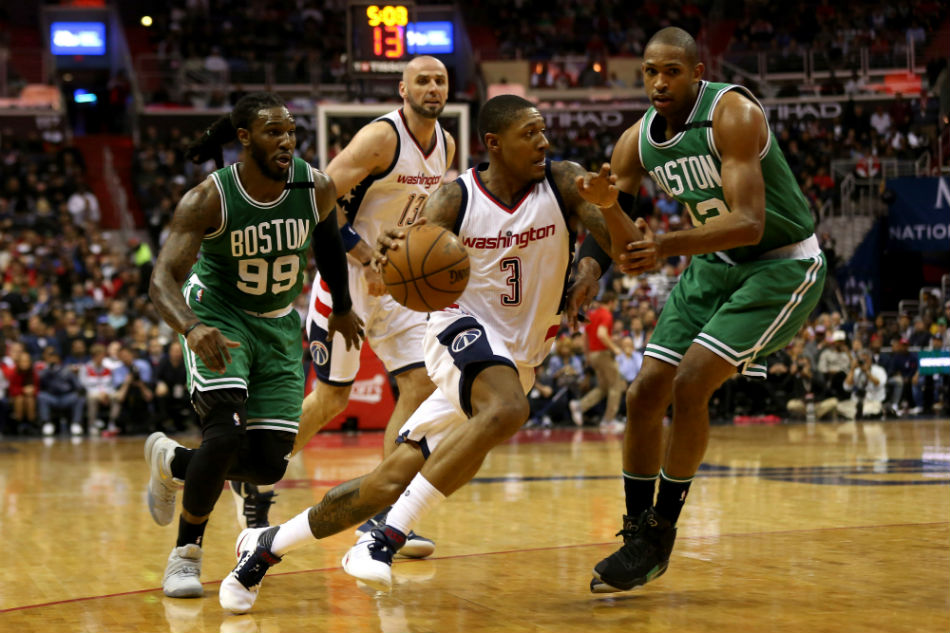 Bradley Beal
Bradley Beal has been one of the best players of the 2011 HS class along with Kyrie Irving, that really has nothing to do with him going to the Celtics, but it shows that he's been good for quite some time. Beal and Wall were a formidable duo in DC before Wall's injuries proved to be too much. With someone like Beal, who has exceptional range, opens up any offense he's apart of. He was after all, the NBA's third leading scorer at over 28ppg. As I stated earlier, SI's Chris Mannix stated the Celtics would be willing to move Jaylen Brown for Bradley Beal or Portland's Damian Lillard.
Beal isn't a PG, but considering he'd likely be in a backcourt with Peyton Pritchard or a vet FA they'd sign for mid level maybe. But Beal also gives Boston a scorer that would match Tatum's great offensive game. Brown's been improving every year since being the 3rd pick in the 2017 NBA Draft behind Ben Simmons and Brandon Ingram, I love his presence on defense and his aggressiveness to drive to the basket. But you simply can't try for Beal.
What stopped Boston before with names like Jimmy Butler, Paul George, and even Kawhi Leonard was the standpoint of a long term commitment from the player, like Kawhi and AD's case, or simply Danny Ainge and the GMs of Indiana and Chicago not wanting to make any trades with an Eastern Conference team, which is proven with Minnesota acquiring Butler, and OKC landing George. Looking at those deals, you can see a precursor for what it'll cost any team to land the DC All Star.
Like Lillard, I objectively feel the Celtics consider a different option.
But the reason the links will continue is due to fact that Beal and Tatum are both from St. Louis, MO. The Wizards have also continued to peddle along in mediocrity from being in danger of a deep luxury tax before the Otto Porter trade to now having Russell Westbrook alongside Beal in the backcourt. Unless Chris Bosh, I don't see a long term future there, especially with Scott brooks departing, a coach Westbrook has a lot of familiarity with.
Malcom Brogden
Malcom Brogden is not quite an all-star, but he, Caris Lavert, TJ Warren, Myles Turner, and Damontis Sabonis are all quality players who could moved as well as they could stay put in Indianapolis. With new HC Rick Carisle, it's clear they need a fresh reboot after the Oladipo and McMillan fallout. The Pacers were reportedly offering Malcom Brogden and a 1st round pick for former #1 pick Ben Simmons, and abruptly turned down. Philly could likely move Simmons but may want more value.
If Brogden were to be moved, he has two years remaining at $21.7million for the 21-22 season and $22.4 million in 2022-23, he will be 29 by the end of his current contract, a contract he signed as a RFA while with the Milwaukee Bucks. The Celtics have had their issues trading with the Pacers in the past, Celtics couldn't get Indiana to the table for any Paul George swap and couldn't successfully handle the Heyward/Turner swap before he signed with Charlotte.
Brogden wouldn't bring the national puppets like Nick Wright or others to give them a chance against Brooklyn, but watching Brogden from UVA to now, on a team with Brown, Tatum, Horford, and Moses Brown would set the Celtics up very nicely. In any situation where Smart gets moved, which is still up in the air, Brogden would give you a similar defensive attitude with the ability to facilitate offensively. Stevens should consider Brogden as an option this offseason.
Last June, Brogden protested with Jaylen Brown with the two of them being from the city of Atlanta. Now that Rick Carisle has rejoined Indiana as HC after over a decade in Dallas will certainly lead to changes, especially noting he's about to turn 30 on a deal expiring in twelve months time.
Lonzo Ball
I remember watching Lonzo at UCLA and thinking he was very Jason Kidd like, this was the month before his hype machine blow up and all the BBB swagger that followed. Lonzo's stint with the Lakers will be seen by many in different ways, but if you've seen him healthy in New Orleans, he's shown ability to defend very well on the perimeter and of course he's a facilitator first PG, and not the scorer that an IT, Kyrie, or Kemba are/were. Lonzo could give Celtics fans Rondo flashbacks, and as a Celtics fan, Rondo was always my favorite Celtics PG.
However, Lonzo Ball's family used to be represented by CAA, and a former CAA agent Leon Rose is the GM of the New York Knicks, a team that will also be on the hunt for a PG also, especially the season they just had. Lavar Ball also has been mentioning how he'd love the fit on the Knicks. The Celtics could deploy all options here and attempt a sign and trade, but as history shows, that's still at the mercy of the player, as an RFA, any team can offer a contract with the current team being able to match any offer.
The Celtics could use the trade exception for cap relief, sure, but the Celtics also have to make a deal with a team also looking to build for its young star Zion Williamson, and if they do decide to hold onto Brandon Ingram.
As a Celtic, Lonzo would be a picture perfect fit, he'd be fantastic in any two man game with Al Horford/Moses Brown, and Tatum and Brown would have spacing and more open shots. Just depends on what NYK, Chicago or others offer the 23 year old from Chino Hills.
Closing Thoughts:
Looking at the options considered I believe the Celtics will look back at the 2016-2020 stretch as a fun time, the team overachieved with the fortunate circumstance of being able to build while another team tanks for you, and like many instances in NBA history, the 80s Mavs/Lakers/Celtics, those draft picks can lead to prolonged success if done correctly. The Celtics and Lakers both capitalized on stupidity in the olden days, and won titles because of that. The Celtics in recent years will be seen as the group unable to get past Lebron in the Eastern Conference, or the team that couldn't hang onto its veteran stars.
Even with Gordon Hayward, I never felt good about that signing, I felt as if keeping Jae Crowder and signing Paul Millsap with young Tatum and Brown was the best option for this team, especially with the way Millsap and Horford produced for 60+ win Atlanta team and of course with Kyrie, that would've been the best thing. Seeing that Paul Millsap signed to Denver with a team option in the 4th season, the Celtics would've been free to move for a star as opposed to being stuck with an injured Hayward and maxing out Kemba Walker.
Another instance where I felt Boston went wrong was the offseason with the major playoff run. That regular season, Kyrie was one of the best eight players in the league, he really was. I felt as if they should've committed more to him and moved Rozier and others to allow Kyrie to run the show his way and help the Anthony Davis trade prospects. The dream being sold to Celtics fans for three years was to have Kevin Durant and Anthony Davis join them in Boston, of course it's no surprise what cities they landed in, but also a bummer because I do believe if Ainge had offered Tatum or Brown with options they had the best deal on the table for New Orleans. The course of history could've also been a bit different had the Celtics decided to trade Terry Rozier and Marcus Morris in the deadline before their departures along with Kyrie Irving, the Celtics could've avenged a little reset and hit some momentum in a different way. That will be the Danny Ainge downfall in the end, it wasn't trading IT, Avery Bradley, Jae Crowder in the same offseason after reaching the Eastern Conference Finals, but standing pat when the team needed a shift in some of the faces walking in the door, especially players you are likely to lose for nothing.
Of course, like Celtics fans I liked the Kemba Walker signing as a short term move at the time of Kyrie's departure, and for a while it was working, but now at 29, and with some injury concerns in the last 16 months, Brad Stevens was smart to bring in Moses Brown and Al Horford. Adding Malcom Brogden or Lonzo Ball would be a perfect move for the next rendition of the Celtics. The Celtics can certainly hope to count on Jaylen Brown and Jayson Tatum. I want them to build around the two of them, both are under contract and can get extensions in due time. Free Agents may and probably don't like Boston's fan culture, but winning teams attract good players, and eventually that will reign true if Stevens is successful in building this team in the near short term future. Boston fans know the entire country will be rooting against them, it's natural at this point.